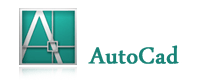 *Please click the course name to see the details:
AUTOCAD
COURSE CONTENT:
GETTING FAMILIAR WITH AUTOCAD
Understanding the AutoCAD Window,Starting a Drawing,Panning and Zooming to Adjust Your View,Understanding the Layout View,Understanding How Command Options Work.
UNDERSTANDING THE DRAFTING TOOLS
Understanding the AutoCAD Coordinate System, Setting Up a Drawing, Using a Digital T Square and Triangle,Getting a Visual Reference with the Grid Mode, Snapping to the Grid or Other Regular Intervals , Changing the Grid and Snap Settings, Selecting Exact Locations on Objects,Aligning Objects Using Object Snap Tracking and Tracking Points, Using the Temporary Tracking Point Feature.
DRAWING 2D OBJECTS
Working with the Draw Panel, Drawing Straight Lines,Drawing Circles and Arcs,Drawing Curves,Drawing Parallel Lines, Drawing Revision Clouds,Working with Hatch Patterns and Solid Fills, Drawing Regular Polygons, Using Objects to Lay Out Your Drawing.
EDITING AUTOCAD OBJECTS
Selecting Objects, Editing the Windows Way, Changing Objects with Grips and Dynamic Input, Controlling Objects Using the Properties Palette.
GETTING ORGANIZED WITH LAYERS
Creating and Assigning Layers, Setting the Current Layer, Controlling Layer Visibility, Locking Layers from Printing and Editing, Finding the Layers You Want, Taming an Unwieldy List of Layers, Saving and Recalling Layer Settings, Using the Layers Panel to Manage Layers, Organizing Visual Content by, Using Properties .
USING BLOCKS, GROUPS, XREFS, AND DESIGN CENTER
Organizing Objects by Using Groups, Getting Multiple Uses from Drawings using External References, Keeping Track of Drawing Components with Design Center, Keeping Tools on Hand with the Tool Palettes Window.
CREATING TEXT
Adding and Formatting Text, Understanding Text and Scale, Using Styles to Organize Your Fonts, Adding Single Words with the Single-Line Text Object, Adding Tables to Your Drawing.
USING DIMENSION
Understanding the Parts of an AutoCAD Dimension,Dimensioning in the Model or Layout View,Drawing Linear Dimensions,Dimensioning Nonorthogonal Objects,Adding a Note with an Arrow Using the Leader Tool,Using Ordinate Dimensions,Adding Tolerance Notation,Editing Dimensions, Setting Up the Dimension's Appearance.
GATHERING INFORMATION
Measuring Areas,Finding the Coordinate of a Point, Measuring Distaices, Measuring Angles, Getting the Genera! Status of the Drawing, Finding the Time Spent on a Drawing, Finding Text in a Drawing
USING DIMENSION
Setting Up a Drawing for Printing, Printing Your Drawing, Storing Your Printer Settings, Controlling Color, Lines, and Fills Through Plot Styles,Assigning Named Plot Styles, Directly to Layers and Objects, Converting a Drawing from Color Plot Styles to Named Plot Styles .
AUTOCAD 3D SOLID MODELING
COURSE CONTENT:
Introduction to 3D
Types of 3D Models
Setting Viewport Display
Creating Solid Primitives
About Solid Primitive
Creating a Solid Box
Creating a Solid Sphere
Creating a Solid Cylinder
Creating a Solid Cone
Creating a Solid Wedge
Creating a Solid Torus
Creating a Solid Pyramid
Creating Models from 2D Profiles
About Models from 2D Profiles
About the Right-Hand Rule of Rotation
Choosing a Model Creation Method
Creating a Model Using the Planar Surface Command
Creating a Model Using the Polysolid Command
Creating a Model Using the Extrude Command
Creating a Model Using the Presspull Command
Creating a Model Using the Revolve Command
Creating a Helical Path
Creating a Model Using the Sweep Command
Creating a Model Using the Loft Command
Creating Composite Solids
About Composite Solids
Creating Solids Using Union
Creating Solids Using Subtract
Creating Solids Using Intersect
Checking Interference
Working in 3D
About the Cartesian Coordinate System
Changing the Coordinate System
Changing the UCS Icon Display
Acquiring Points in 3D Space
Editing Models
Adding Detail to Your Solid Models
Filleting Solid Models
Chamfering Solid Models
Slicing a Solid Model
Editing Solid Models
Extruding Faces
Moving Faces
Offsetting Faces
Deleting Faces
Rotating Faces
Tapering Faces
Extracting Geometry from Solid Models
Overview
Copying Faces
Copying Edges
Exploding 3D Models
Changing the Model Position
Overview
Moving in 3D
Aligning in 3D
Rotating in 3D
Duplicating the Model
Overview
Mirroring in 3D
Arraying in 3D
Getting Information from 3D Objects
Overview
Checking Solid Model Integrity
Viewing Mass Properties
Changing Face Color
Changing Edge Color
Sectioning a Model and Creating Drawings
Section a Solid Model and Generate 2D Geometry
Displaying 2D Geometry from a Model View
Manipulating Section Planes
Generating 2D/3D Sections
Creating Drawings from 3D Models
Overview
Types of Views from 3D Models
Types of Views from 3D Models
Shaded and Hidden Views
Creating Views from Flatshots
Visualization
Using Visual Styles
About Visual Styles
Using the Visual Styles Manager
Rendering
About the Rendering Environment and Render Presets
Navigating the Model
Walking and Flying Through a Model
Using Cameras and Views
About Cameras
Creating Cameras and Views
Course Name
Duration
Entry requirement
Fee(SGD)
AutoCAD
16 hrs
Basic Computer Knowledge
370
AutoCAD 3D Solid Modeling
20 hrs
Basic Computer Knowledge
390
Time Slot

Please call 63360244/96503505

or

mail to info.my@gteceducation.com.

We also provides flexible timing to meet the customer's requirement,