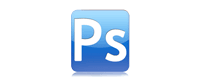 Course Content:
Module1:Introduction to Photoshop
♦ Exploring the New Interface
♦ Title Bar, Menu Bar, Options Bar
♦ Document Window, The Toolbox
♦ All New Tabbed Palettes, Screen Modes
♦ Standard Screen Mode Maximized Screen Mode Full Screen Mode with Menu Bar, Full Screen Mode

Module2:Configuring Basic Settings
♦ Selecting a Workspace, Managing Palettes
♦ Changing the Position of a Palette Group
♦ Working with Keyboard Shortcuts and Menu Settings.

Module3:Working With Images
♦ Types of Image Formats
♦ Bitmap and Vector Images
♦ Understanding the Image Resolution
♦ About the Pixel Logic Understanding the Image Size, Editing Images, Rotating an Image
♦ Cropping an Image, Hiding Instead of Cropping
♦ Working with Canvas Size, Duplicating an Image
♦ Color Mode, RGB Mode, CMYK, Gray scale Mode, HSB Mode, Lab Mode
♦ Changing Modes, Making Color Adjustments Levels, Curves, Brightness/Contrast, Hue/Saturation, Variations, and File Formats.

Module 4: Creating, Transforming the Selections
♦ Using Selections Tools, The Marquee Tools, Lasso Tools, Magic Wand Tool
♦ Making Color Range Selections, Modifying a Selection, Adding and Subtracting Selection,
♦ Expand and Contract Commands, Grow and Similar Commands
♦ Refine Edges, Inverse, Transforming a Selection
♦ Scale, Rotate, Distort, Skew, Perspective, and Warp, Saving and Loading Selection.

Module 5: Drawing, Painting and Retouching Tools
♦ Setting the Current Foreground and Background Colors, The Color Picker Dialog Box,
♦ The Eyedropper Tool, The Color Palette
♦ The Swatches Palette, The Drawing Tools
♦ Using the Rectangle Tool, Using the Custom Shape Tool, The Pen Tool
♦ The Painting Tools The Gradient Tool
♦ The Paint Bucket Tool, The Brush Tool
♦ The Pencil Tool, The Color Replacement Tool
♦ The Retouching Tools, The Spot Healing Brush Tool, The Healing Brush Tool, Patch Tool
♦ Clone Stamp Tool, The Pattern Stamp Tool
♦ The Eraser Tool, The Background Eraser Tool The Magic Eraser Tool, The Blur Tool
♦ The Sharpen Tool, The Smudge Tool
♦ The Dodge Tool, The Bum Tool, Sponge Tool.

Module 6: Layers
♦ About the Layers Palette, Working with Layers
♦ Creating a New Layer Using the Layer via Cut Command
♦ Creating a New Layer Using the Layer via Copy Command, Changing Stack Order of Layer
♦ Merging Layers, Flattening Images
♦ Moving Layers between Images, Linking and Unlinking Layers
♦ Working with Adjustment Layers
♦ Applying Blend Modes, Masking Layers, Layer Masking, Vector Masking
♦ Type Masking, Shape Masking

Module 7: Layer Style And Filters
♦ Using the Layer Style Dialog Box, About Filters, About Smart Objects and Filters
♦ Creating a Smart Object, Editing Smart Object, The Filter Gallery
♦ Applying the Extract Filter, Applying the Liquefy Filter, Applying the Vanishing Point Filter
♦ Applying the Artistic Filters, Applying the Blur Filters, Applying the Brush Stroke Filters
♦ Applying the Distort Filters
♦ Working with Adjustment Layers
♦ Applying the Noise Filters
♦ Applying the Pixilated Filters, Applying the Render, Filters

Module 8: Automation and Printing in Photoshop
♦ The Paths to Illustrator Command, Printing in Photoshop, Page Setup, Various Print Commands in Photoshop.
Course Name
Duration
Entry requirement
Fee(SGD)
Adobe Photoshop
15 hrs
Basic Computer Knowledge
450
Time Slot

Please call 63360244/96503505

or

mail to info.my@gteceducation.com.

We also provides flexible timing to meet the customer's requirement,