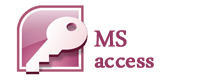 A successful database is efficient quick accurate and easy to use. This course covers how to create such a database with MS Access.
Course Content:
Module 1: Get Acquainted with Access
♦ What is access
♦ Introduction to Database
♦ Relational Database management system
♦ Introduction to Database objects
♦ Components of Access User interface
♦ Ribbon, Navigation pane, Back stage view

Module 2: Access startup screen
♦ Creating new blank Database
♦ Closing Database
♦ Creating Database from Template
♦ Opening an existing Database
♦ Backing up Database

Module 3: Using Navigation Pane
♦ Viewing object, Copying object
♦ Renaming Object, Deleting object

Module 4: Access Tables
♦ Planning Tables
♦ Planning fields
♦ Creating tables in Design view
♦ Modifying Tables in Design view
♦ Selecting a primary key
♦ Importing data from excel into new table
♦ Importing data as a linked table

Module 5: Table Relationship
♦ Relationship types
♦ Creating relationship in database
♦ Creating look up field
♦ Viewing related data

Module 6: Creating Queries
♦ Creating Query in design view
♦ Creating Query with Query Wizard
♦ Modifying Queries
♦ Adjusting Query field
♦ Sorting Query field
♦ Hiding Query field
♦ Adding Query criteria
♦ Adding calculated field to Query
♦ Creating crosstab Query

Module 7: Using Forms
♦ Form views
♦ Creating form with form Wizard
♦ Working with forms in design view
♦ Working with forms in Layout view
♦ Working with padding, Margins and Anchoring

Module 8: Creating Reports
♦ Report sections
♦ Designing a report
♦ Report views, print view, and layout view
♦ Using the report tool
♦ Working with reports in layout view
♦ Working with reports in design view
♦ Creating blank report
♦ The field list pane
♦ Grouping and sorting report
♦ Previewing and printing reports
Course Name
Duration
Entry requirement
Fee(SGD)
MS Access
15 hrs
Basic Computer Knowledge
S$290
Time Slot

Please call 63360244/96503505

or

mail to info.my@gteceducation.com.

We also provides flexible timing to meet the customer's requirement,
Frequently Asked Questions
All the very best for the fure Devolopment..